Things to do in Manta – The Complete Guide
Manta is a coastal city located in the Manabí Province of Ecuador. I grew up in Manta, witnessing its constant development and exploring every corner of this beautiful town.
Good news, there's plenty to cover, so let's cut to the chase and go straight to it!
Let's start with my favorite thing when I travel, to taste the local flavors.
The city is famous for its gastronomy, year-round great weather, wonderful beaches, and perfect location and amenities to explore the province.
1. Enjoy the local cuisine.
Manta is known for its delicious seafood, so try some local dishes such as ceviche, fried fish (camotillo), and shrimp. You can also try some local fruits such as maracuyá (passion fruit) and naranjilla.
Here are some of the most popular dishes and ingredients that you can find in Manta:
Ceviche: Ceviche is the star of the menu. This dish is made from raw fish marinated in citrus juice, typically lime or lemon, and mixed with onions, peppers, and other seasonings. Manta is famous for its ceviche, often made with local fish such as corvina (seabass), shrimp, or octopus.
Encebollado: Encebollado is a hearty soup made from fish, yuca, onions, and other seasonings. It is often eaten for breakfast or as a "cure for hangovers."
Seafood soup: Seafood soup is a very typical and traditional recipe from the coast of Ecuador. As with seafood rice, you can add all kinds of seafood, fish, and shellfish in a seafood soup. It is a dish that is currently consumed throughout the country.
Camotillo: Fried fish, for us, is synonymous with the beach. It's as simple as that. This is how fish is eaten in Ecuador. With white rice, patacones (fried green plantains), chili sauce, and the classic tomato sauce with red onion seasoned with lemon. Delicious!
We usually say, if you haven't tried ceviche, you haven't visited Manta.
My personal recommendation for tasting our coastal gastronomy is Fish Cevicheria.
2. Visit the Murciélago Beach.
This beautiful beach is one of the most popular attractions in Manta and is a great place to enjoy the sun, sand, and sea. You can swim, relax under the sun, or enjoy water sports such as surfing or kiteboarding.
Here are some more details about Murciélago Beach:
Amenities: There are several amenities available at Murciélago Beach, such as showers, restrooms, and changing rooms, located on the right side of the boardwalk. You can also find several restaurants and bars along the beach where you can enjoy some local cuisine and drinks. My personal pick to have a great meal at the beach is Jireh Restaurant.
Safety: Murciélago Beach is generally considered safe, but like any tourist destination, you should take precautions and keep an eye on your belongings. It is also important to pay attention to the ocean currents and follow the lifeguard's instructions when swimming.
3. Explore the Fish Market.
"Playita Mia" is a popular fish market in Manta, Ecuador. It is located on the Malecón (boardwalk) of Manta and is known for offering fresh seafood caught daily by local fishermen.
What to expect?
Variety of seafood: "Playita Mia" offers a wide variety of seafood such as shrimp, octopus, squid, tuna, mahi-mahi, and of course, tuna. No wonder Manta is known as the "Tuna Capital." You can buy fresh seafood or have it cooked on-site by the local cooks. The prices are generally reasonable.
Local culture: Visiting "Playita Mia" is a great way to experience the local culture of Manta. You can see the local fishermen bringing in their catch of the day and witness the bustling activity of the market. You can also interact with the locals and learn about their way of life.
Restaurants: Several restaurants located near "Playita Mia" offer fresh seafood dishes cooked to order. Enjoy some ceviche, fried fish, or other local delicacies while enjoying the ocean views.
Wooden Shipyard: One of the last of its kind, this shipyard has a history of more than a 100 years. You can find carpenters working on fishing boats using the same techniques and tools as their ancestors. You can read more about the Manta's shipyard here.
Accessibility: "Playita Mia" is easily accessible from the Malecón of Manta and is within walking distance from several hotels and attractions in the area. It is open daily from early morning to late afternoon.
The best tip to visit Manta's fish market is the earlier you go, the better! So take your cup of coffee and enjoy the bustling activities carried out daily in the area.
4. Discover the Archaeological Museum.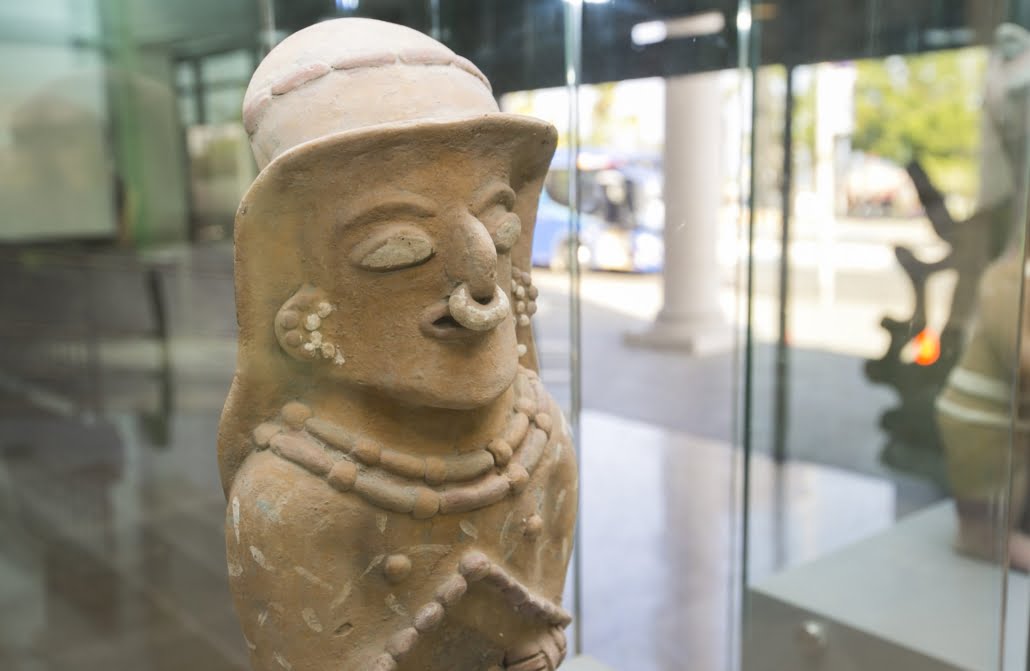 The Banco Central Museum, also known as the Archaeological Museum of Manta, is a must-visit attraction in Manta, Ecuador. The museum is located on the Malecón (boardwalk) of Manta and is dedicated to showcasing the pre-Columbian history and culture of the region. Here are some more details about the museum:
Exhibits: The Banco Central Museum has a diverse collection of artifacts and exhibits that date back to the pre-Columbian era. The exhibits showcase the history and culture of the indigenous communities that lived in the Manabí region before the arrival of the Spanish. The collection includes ceramics, jewelry, textiles, and other artifacts that give a glimpse into the daily life, art, and religion of ancient cultures.
Guided tours: The museum offers guided tours in English and Spanish. The knowledgeable guides provide in-depth information about the exhibits and the region's history.
Accessibility: The museum is easily accessible from the Malecón of Manta and is within walking distance from several hotels and attractions in the area. It is open daily from morning to late afternoon.
5. Take a Boat Tour and explore the marine scene.
Beautiful hidden beaches surround Manta, and taking a boat tour is a great way to explore the coastline. A few boat tours in Manta offer a variety of experiences, from whale watching to sunset cruises.
Whale watching tours: Manta is a popular destination for whale watching, especially from June to September when humpback whales migrate to the area. Several tour operators offer whale-watching tours that take you to the open ocean to see these majestic creatures up close.
Fishing tours: Manta is known for its rich marine life, and fishing tours are a popular activity. These tours take you out into the open ocean to catch fish such as tuna, marlin, and swordfish.
Sunset cruises: If you're looking for a romantic or relaxing activity, sunset cruises offer a beautiful way to enjoy the scenery around Manta. These cruises typically include drinks and snacks and provide stunning views of the sunset over the Pacific Ocean.
Diving experiences: Courses: If you are new to scuba diving or want to improve your skills, you can find diving operators who offer the experience from Manta. These courses range from beginner to advanced level and can help you learn about dive theory, equipment, and safety procedures.
When choosing a boat tour in Manta, choosing a reputable operator that follows safety guidelines and regulations is essential. In addition, the equipment should be well-maintained, and the guides should be experienced and knowledgeable about the local waters.
6. Visit the Pacoche Wildlife Refuge.
This natural protected area is located south of Manta, only 30 minutes away, and offers a variety of activities such as hiking, birdwatching, and swimming. You can also visit the beautiful beaches of Cape San Lorenzo, Liguiqui, and "La Botada," some of the most beautiful beaches on the Ecuadorian coast.
What activities are allowed in Pacoche?
Hike through the rainforest: Many trails in the Pacoche rainforest allow visitors to explore the area's natural beauty. The trails vary in difficulty and length, so there's something for everyone.
Birdwatching: Pacoche rainforest is home to over 300 species of birds, including toucans, parrots, and hummingbirds. Birdwatching tours are available with experienced guides who can help visitors spot different species.
Wildlife spotting: Besides birds, the Pacoche rainforest is home to other wildlife, such as monkeys, sloths, and anteaters. Visitors can go on guided tours to spot these animals in their natural habitat.
Beach activities: Visitors can enjoy activities such as swimming, surfing, and snorkeling, or if you want to contribute to the conservation, you can offer to volunteer to beach cleaning brigades that are organized every few months or help monitor the sea turtle nests throughout the year.
You can read more about Pacoche Wildlife Refuge here.
As you may recall, there are many activities you can enjoy in the city.
If this is not enough, you can start looking at neighboring towns like Montecristi, a small village near Manta known for its Panama hats. You can visit the factories where the hats are made, learn about the history of the hats, and even buy one as a souvenir.
More about Montecristi in the next post. Stay tuned!